CLEAR ROAD TO THE SALE – NO OFFRAMPS.
Offer a true SELF-CHECKOUT LANE to today's digital-native customer. WebBuy is the first all-inclusive digital retailing application that offers a true end-to-end solution that unites retailer, buyer, lenders, F&I providers, accessory companies, and a fully customizable trade-in tool into a seamless, world class consumer experience. Best of all, it was designed and built by a fellow Subaru Retailer!
Price and Packages
Enroll Now
Compare Packages
Set Up a Demo
---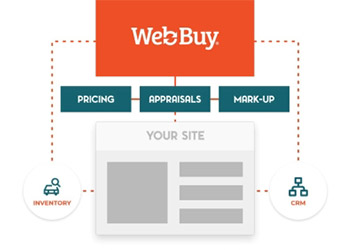 Omnichannel Architecture
Retailer website "real estate" is valuable, and a cluttered, disjointed offering only serves to confuse, frustrate, and distract buyers. WebBuy recognizes that value of your website by providing a simple, streamlined buying journey funnel that starts by meeting the customer where they are.
When they are on your website, customers have different key questions or "jobs-to-be-done". WebBuy can provide up to 10 unique customer journey starting points: Preapproval/Soft-pull, Trade Offer, View Accessories, Finance Online, Buy Now, Get Cash for Your Car, Get ePrice, etc. Each of WebBuy's CTA buttons can lead the customer down the path to purchasing a vehicle online 24/7 in 20 minutes.
Save money by eliminating multiple vendors and confusing buttons, improve CSI, and grow profitability. WebBuy resides on your website, never takes the customer off your site, and allows the dealer to view all analytics in real time.
---
Loans Approved Online in Real Time 24/7
WebBuy gives customers exactly what they are asking for. The average process from start to finish takes less than 30 minutes compared to, on average, six hours in the store. Saving time for the customer and your team.
Customers can PREQUALIFY for realistic rates and payments early in their journey as they are initially structuring their deal or from a dedicated "Prequalify" CTA. Then, as they continue WebBuy's innovative BidBoard® allows your partner lenders to compete for customers' business and provide car buyers with multiple loan offers within minutes via our integration with RouteOne® or DealerTrack®. Buyers have their credit processed and routed to national lenders as determined by the retailer – with you, the retailer, controlling and growing your backend profitability.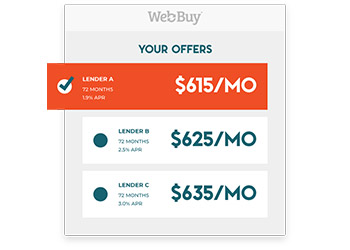 ---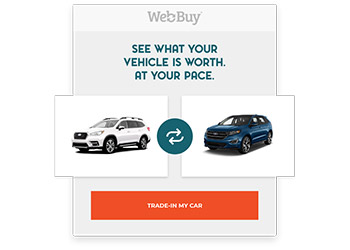 CarValuator Moves Trade-In Process Online
WebBuy brings your current trade-in appraisal process online with its proprietary CarValuator feature. Your store gives customers a real offer that they can count on adding to their final purchase. Our legal checks and balances mean that the customer is responsible for providing accurate information on their trade-in, and retailers can confirm everything before the final paperwork is signed. Qualifying vehicles can be automatically offered from the Subaru Guaranteed Trade-in Program based on your settings.
Real-time lien payoffs enable the real trade equity to be included in the deal. Because the customer actively participates in the evaluation process of their trade-in, acceptance rates are higher than non-integrated, third-party tools. Appraisal details and updates are shown for full transparency. Even if a sale isn't made, retailers can add trade-ins to their inventory.
---
Put Online Buyers in the Driver's Seat
Online buyers want to digitally sit in the vehicle before they commit -- Just like in the showroom. Give the online customer the ability to virtually walk around the vehicle and sit in the driver's seat and you will see significant increases in your Digital Retailing:
72% more Digital Deal starts
44% more Lead Conversion
WebBuy integrated with Impel 360° WalkArounds® to provide constant value building rich merchandising to customers while they build their deal. Now your car shoppers and buyers can explore every aspect of the vehicle without leaving the transaction page.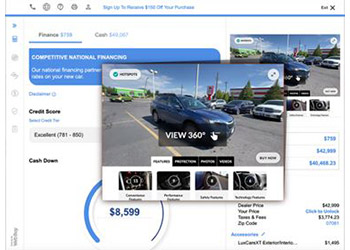 ---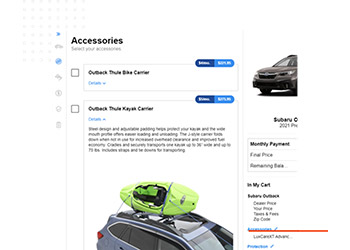 Custom Aftermarket Menus
Customers have plenty of time to consider aftermarket products when shopping online. WebBuy attaches all media types to each accessory and F&I item, so that customers are engaged and sold on the product. They see clear payment implications of each product. It's like having your Parts & Accessories Department and F&I office open and selling 24/7.
You choose all the pricing inputs including when it comes to integration with the Subaru Genuine Accessories program. Our dealer customers have found our accessory and protection menus to be great "first at-bats" for the customer. Customers who have educated themselves on the products in WebBuy close at a higher rate in the F&I office.
---
Showroom and Kiosk Ready
Bring a digital sales process into your showroom and ensure that your sales process is followed by your staff. With a digital sales process 100% of your products are presented 100% of the time to 100% of your customers.
Buyers can go through the entire buying experience in your showroom on their mobile device or a showroom kiosk. Customers can take demos, ask questions, and get help via WebBuy's showroom mode at no additional charge.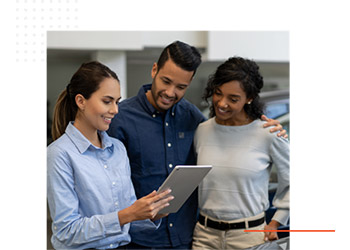 ---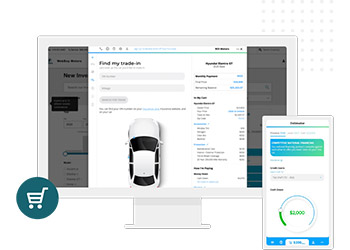 Dealer-Centric Value and Efficiency
As car retailers and proud owners of a Subaru store ourselves, we know how important it is to protect and grow your profitability. Our platform is highly customizable, and we know how to make your dealership's special sauce work in Digital Retailing.
With your bottom line in mind, our award-winning application is offered to you for as low as $495/month with integrations to Line5, Insurify, 700 Credit Soft Pull, and Your Preferred Lenders!
Remember that with WebBuy your Trade-in, Prequalification, Credit App, Rich Merchandising/360° WalkAround® tools are included and integrated into the platform.
---
Easy to Install, Exceptional Support
Our implementation team will help tailor the app to your needs, and you'll also receive technical assistance on using your retailer dashboard for admin reports and analytics.
You'll receive ongoing support and optimization from your dedicated Client Success Manager that will meet with you monthly.
WebBuy is the answer to what your customers are asking for. Attract new buyers for your inventory on your website with our end-to-end digital retailing solution!