Accelerate Your Sales with Data-Driven Automotive Marketing
Take your digital strategy to the next level with Dealer eProcess' Subaru-approved solutions that will drive more in-market customers to your website. Whether it's Google, Amazon, Facebook, or Bing, it's time to grow your market share with intelligent, cross-channel marketing campaigns by targeting and engaging the right shippers at the right time. Our award-winning platform uses a unique blend of data and automation designed to provide our Digital Marketing experts with the tools to make programmatic decisions so you get the biggest band for your advertising buck.
Price and Packages
Enroll Now
Compare Packages
Set Up a Demo
---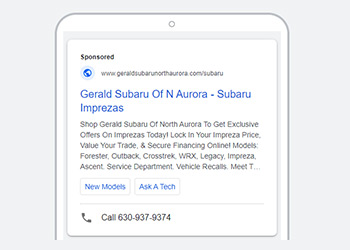 Dynamic Inventory-Based Subaru Search Marketing
Let us turn your vehicle inventory into an unstoppable force of inventory-specific ads! Dealer eProcess' proprietary dynamic inventory-based advertising platform syncs up flawlessly with your inventory database to generate ads for each specific vehicle on your lot and then serves that ad directly to correlating in-market car shoppers. This incredible cost-saving system reduces the frequency of unwanted/unqualified clicks, keeps your pay-per-click costs down and your conversion rates up, and sets us miles apart from other SEM vendors.
---
Market Protection & Geo/Local Campaign
Target your competition, dominate your market, and protect your brand with DEP's Market Protection and Geo/Local Campaigns. Using your retailer's unique selling proposition, we will create ads that target car buyers in and around your area, compelling them to visit your showroom before anyone else's! Our strategy gives you the ability to push your competition as far off of the search engine results page as possible so that you are the only retailer the shopper sees. Our advanced geo-targeting can also be used to gain more market share in surrounding areas. These campaigns are a crucial part of a strong marketing plan and will allow you to remain in front of the competition no matter where the customer is searching!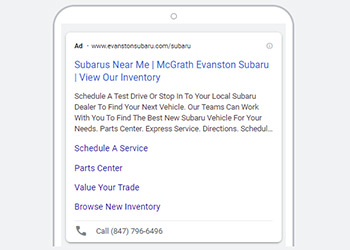 ---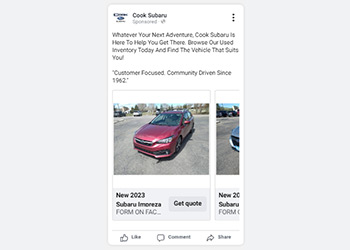 Facebook Dynamic Inventory-Based VDP Remarketing
Long after a consumer has left your website, DEP's Facebook Inventory-Based VDP Remarketing allows you to stay in front of shoppers while they browse on their favorite social media apps. Right after a website visitor has viewed a Vehicle Details Page (VDP), this low funnel campaign will follow that prospect to repeatedly display vehicle images on their Facebook news feeds, Instagram feeds, etc., keeping you, and your inventory, top of mind.
---
Video Advertising powered by Amazon
Dealer eProcess' close partnership with Amazon is a win-win for our retailer clients! As an official Tier 3 Partner of Amazon Advertising, DEP uses the information from the largest consumer data aggregator in the world to identify in-market car buyers and serve highly relevant video ads through streaming mediums to drive more consumers into your sales funnel. Dealer eProcess also syncs these exceptionally efficient video ad campaigns with your other digital marketing campaigns to create a consistent user experience across all channels, effectively driving buyers down your sales funnel and into your showroom. DEP's Video Advertising powered by Amazon gives you unparalleled targeting, unbeatable messaging, and unmatched ROI!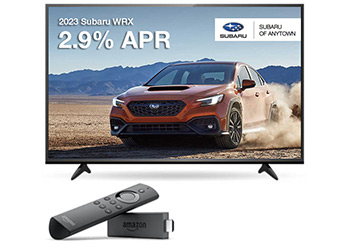 ---
DMS Attribution
The proof is in the data! When it comes to selling cars, there is no better way to prove what is and is not working than by analyzing all website and digital marketing data and matching it to all DMS sales activity. Dealer eProcess ties together online, offline, 3rd party vendor data, and more, to give you the full picture of what produces the best results…so you can make more informed, data-driven marketing decisions.