Instantly generate hundreds of AI-powered targeted ads.
Fullpath Digital Advertising is designed to help dealers optimize their Digital Advertising efforts with smart, AI-powered paid search, social and display ad campaigns on Google, Facebook, and Instagram.
Fullpath Digital Advertising leverages first-party dealership data to automatically segment your advertising audiences and instantly generate hyper-specific ad copy and creatives at scale for each audience. The platform then works to automatically allocate and optimize your ads budget 24/7 cross-platform to ensure your marketing dollars are bringing in as many qualified leads as possible.
Price and Packages
Enroll Now
Compare Packages
Set Up a Demo
---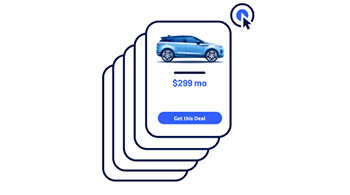 Multi-Platform Digital Advertising
Drive high-quality leads from multiple advertising networks
Fullpath Digital Advertising works to publish and optimize search. social and display ads across Facebook, Instagram and Google so you can reach your potential customers where they are. All ads are automatically optimized for the individual platform requirement so you can rest assured that they will bring in results.
---
Audience Automation
Automatically generate hundreds of hyper specific audiences.
Fullpath Digital Advertising automatically creates hundreds of hyper specific ad audiences based on customer behavior and preferences pulled from your first party data to ensure your ads reach the right shoppers with the right messaging. By targeting shoppers with relevant and personalized ads based on their interests, you create a valuable shopper experience and increase the likelihood your shoppers will engage with your content.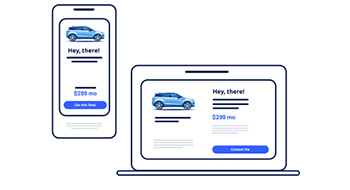 ---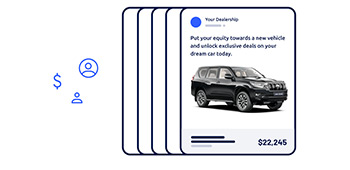 Ad Copy and Creative Generation
Instantly generate effective ad copy and visuals with no manual effort.
Fullpath Digital Advertising uses AI to instantly generate hyper-targeted and personalized ad copy and creatives for each of your ad audiences at scale to increase engagement and provide value for your shoppers at every touchpoint. Every Fullpath ad is automatically optimized for mobile and desktop so your shoppers have an excellent experience wherever they encounter your dealership.
---
Defined Advertising Objectives
Run your ad strategy based on your business strategy objective.
Fullpath Digital Advertising uses objectives to help you spend your ad budget and meet your business goals. Objectives include promoting new or used inventory, building brand awareness in your area, targeting trade-in opportunities, targeting shoppers searching for your competitors, driving more traffic to your service lane, advertising pre-order stock, and more!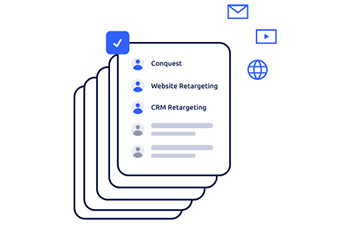 ---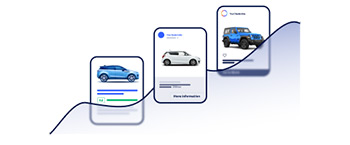 Cross-Channel Budget Optimization
Use AI to monitor your ad performance and budget 24/7.
Fullpath Digital Advertising publishes your ads across multiple platforms and then uses AI and machine learning to optimize your ad campaigns around the clock with zero manual effort required. Fullpath works to monitor your ads and automatically re-allocates your ad budget cross-platform to support better performing, lead generating campaigns so you can get the most out of your marketing budget every month.
---
Smart Retargeting
Capture leads from shoppers who have previously engaged with your dealership.
Fullpath Digital Advertising utilizes retargeting for dealership display ads to capture leads from shoppers who have previously engaged with your dealership or visited your dealership website. Fullpath AI also utilizes the characteristics of these shoppers to create audiences with similar interests, needs and behaviors, increasing the likelihood of driving new, relevant, and qualified traffic to your website.