Get More Leads. Acquire More Trades. Sell More Cars.
Trade by TradePending converts website traffic 300-400% better than any other trade-in tool in the market, giving you more inventory sourcing opportunities than ever before. Trade breathes life into old, stale pages and enhances the overall marketability of the store website. See for yourself what thousands of retailers are applauding and what consumers have been looking for, for decades!
Price and Packages
Enroll Now
Compare Packages
Set Up a Demo
---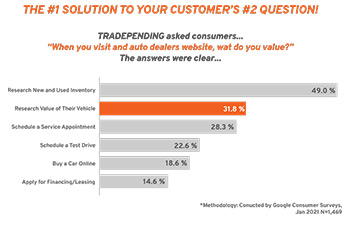 THE #1 SOLUTION TO YOUR CUSTOMER'S #2 QUESTION!
TRADEPENDING asked consumers...
"When you visit an auto retailer's website, what do you value?"
The answers were clear…
---
TRANSPARANCY WITH REAL MARKET DATA
Why show consumers a book value when you don't use the book and it often times only causes confusion and frustration from the consumers point of view? Trade Market Reports use real values of local cars for sale by other franchised retailers. Reduce customer anxiety. Have a credible conversation about the value of their trade and increase customer satisfaction.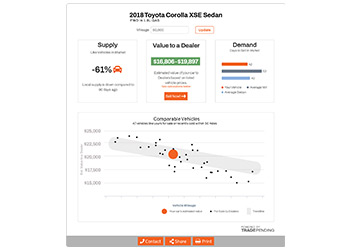 ---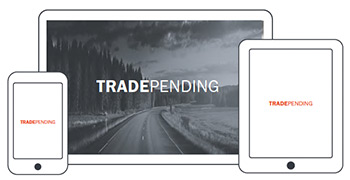 RESPONSIVE DESIGN
Mobile traffic is now a majority of website page impressions for most retailers. Trade is optimized to work with 100% of your traffic. We vigorously researched the usability of type-ahead and thumb-select methods and implemented the easiest and fastest possible.
NO DETAIL HAS BEEN LEFT UN-TURNED.
---
MODERN PAGE INTEGRATION
Trade doesn't live on just one page within a retailer website with clashing banners & buttons that drive clicks to a different page or, even worse, an entirely different website. Trade breathes life and greater conversion into any page on your website.
Just consider the VDP. Most retailers have 3x more VDP views than homepage views. Modern digital ad solutions drive traffic directly to those VDPs. VDP conversion is a key measure of marketing and design success. Trade keeps traffic on VDPs!