DealerOn – Results Guaranteed
Boasting the Automotive Industry's first native, "open-retail" eCommerce website platform, DealerOn's Cosmos website platform creates a transparent shopping experience for Subaru retailers that closes the e-tailer divide, making it possible to compete on a level playing field with national brand e-tailers.
Price and Packages
Enroll Now
Compare Packages
Set Up a Demo
---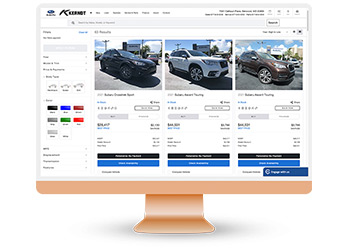 PriceStak Payments
Harness the power of payments directly on your site. PriceStak Payments allows you to showcase lease, cash, and finance offers for every vehicle in your inventory. Already have a digital retailing tool? Don't worry we have you covered, PriceStak Payment can match calculations with any existing digital retailing provider, creating a seamless shopping experience for your customers.
---
Lead Driver
Lead Driver is a highly effective, non-intrusive way to target potential customers on both mobile and desktop. It's a popup, not an ad, so it won't be blocked by ad-blockers. You can customize the offer to meet your needs. Whether you want to offer $500 off of new vehicles, provide a special discount for service orders, or provide nearly any kind of offer to entice your site visitors to submit a lead.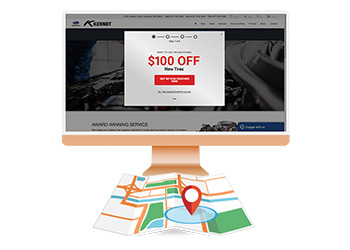 ---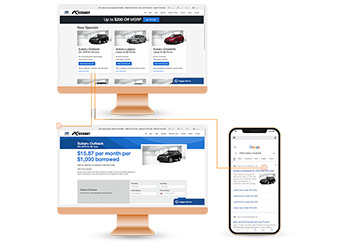 Symphony Automation Suite
Create digital marketing harmony with every aspect of your dealership's digital presence. The Symphony Automation Suite automatically calculates specials and syndicates them to key marketing channels such as Google Ads, Facebook, and Google Business profiles saving time and money while creating a seamless consumer experience for your customers.
---
Apex Digital Retailing
A native customer-first eCommerce technology designed to allow shoppers browsing your inventory to instantly design a payment plan tailored to their needs. Its unique interface creates a transparent shopping process between you and your customers that fosters trust and speeds up the car buying process.
Apex bridges the gap between online and off-line shopping by guiding customers through an easy trade valuation process, smart incentive selection, F&I/ accessory menu, live credit pulls/ decisioning and document uploads - saving you time and money while creating a seamless consumer experience for your customers.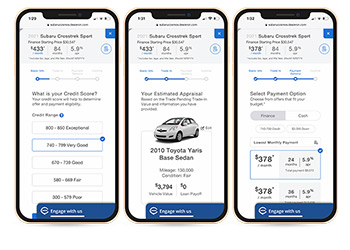 ---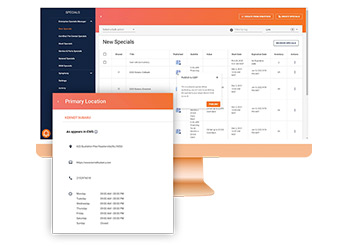 Listings Manager
Quickly and easily manage all of your critical business listings simultaneously directly from the DealerOn website platform. By connecting the DealerOn platform to listings services like Google Business Profile, updates to hours and other vital business information is seamlessly reflected across your entire online presence with a few clicks of a button. Listings Manager also integrates with DealerOn's Enterprise Specials Manager and Symphony Automation Suite to automatically post specials to your Google Business Profile as offer posts.
Advanced Listings Manager
Advanced Listings Management layers on top of our basic listings manager service and allows retailers to manage 20+ Local listing sites. It allows for comprehensive reputation and review management and provides robust local intelligence - including sentiment analysis, local brand visibility scores, keyword ranking, competitive analysis and much more.
---
Loop
Entice your customers to send leads and re-engage in meaningful ways across your website. Shoppers can quickly share vehicles via text with friends or family, download coupons or loyalty offers to their Google or Apple Wallet and request a price drop alert when there is a change in the vehicle's price.
Loop e-wallet coupons allow consumers to quickly store service coupons and offers in their phone's eWallet (AppleWallet on IOS or Google Pay on Android devices). Taking advantage of geolocation services, customers who have these coupons on their phones receive lock-screen notifications reminding them to use the coupons that they have downloaded as they pass by the physical location of the dealership.
Loop Send-By-Text offers car shoppers the ease of sending information about a vehicle to their phones or simply sharing vehicles with friends and family who are in the car buying process. Loop Send-By-Text is part of the Loop family of features, which focuses on generating meaningful re-engagement opportunities, by keeping your dealership top of mind for prospective car buyers and their connections.
Loop Alerts allows online car shoppers the ability to set-up a wide variety of notifications based on dealership inventory and pricing. Shoppers can receive text or email notifications every time a vehicle has a drop in price or when a car with their specifications or range of payments appear on a retailer's site. Loop Alerts are designed to keep car shoppers actively engaged with your dealership and provide a mechanism to keep you top-of-mind in a highly competitive marketplace.