Don't let lack of inventory roadblock your ability to sell.
Upstart Auto Retail's Build & Price functionality for Subaru takes inventory challenges and turns them into opportunities. Customers are empowered to pre-build their perfect Subaru, while also making several additional build selections, all while being rewarded with the *estimated pricing associated for the build combination they've chosen.
Please note that enhancements to the Build and Price experience are currently underway. These updates will be announced as future versions of the tool are made available.
*Estimated cost is based on MSRP and delivery and does not include taxes, documentation fees, etc.
Enroll Now
Set Up a Demo
---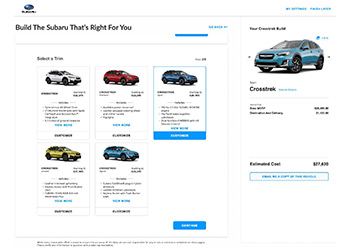 Let Customers Build & Price Right From Your Website
Upstart Auto Retail and Subaru partnered together to bring customers a retailer website experience that continues to provide solutions to customers, regardless of inventory constraints.
---
Have Everything You Need to Take The Next Step
Nothing is more powerful than having everything you need up front to structure a deal, especially when a customer is ready to say "yes". Every submission includes permanent customer information, vehicle selection, and build preferences. With Upstart's Build & Price solution, you have everything you need to take the next step with your customers.