DONE DEAL, Easier Sales, More Profit
AutoFi is changing the automotive shopping experience by delivering F&I innovation and digital retailing for dealerships, consumers, and lenders. Customers can instantly engage and structure their deals remotely or in the dealership. Like PayPal's checkout process did for small businesses, AutoFi's purchase process allows for digital commerce to come to life for retail automotive. A customer is able to shop for a vehicle, value their trade, submit credit applications, and review actual offers from lenders in a fast, seamless, and mobile-first experience.
Price and Packages
Enroll Now
Compare Packages
Set Up a Demo
---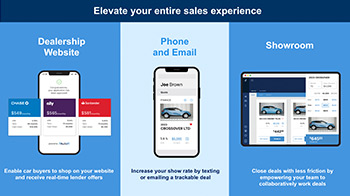 Elevate your entire sales experience
Enable car buyers to shop on your website and receive real-time lender offers, increase your show rate by texting or emailing a trackable deal and close deals with less friction by empowering your team to collaboratively work with customers on purchase and payment options with management control.
---
Engage with more Ready-to-buy shoppers
AutoFi provides affordability tools to help customers better understand what they will get approved for with real payment options. Our credit application has been optimized so that customers can easily answer the required information, accurately with the flexibility as a stand-alone application for the undecided shopper (non-vehicle specific) and deal integrated credit application for those that have landed on the vehicle that fits their budget.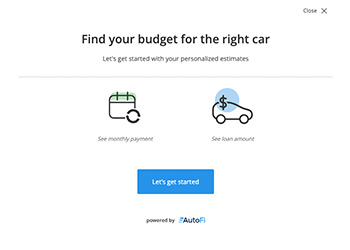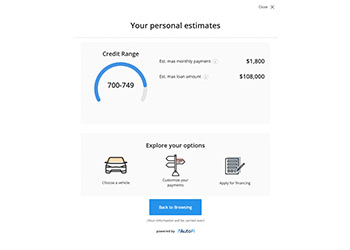 ---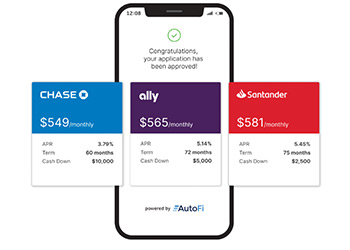 Improve your close rate
When finance is moved forward, dealers and customers win. AutoFi provides solutions for dealers to share the digital experience with all customers. Our deal share feature and real-time decisioning pull customers from the noise of the internet to your dealership experience. In fact, 48% of customers who receive instant lender approvals through AutoFi purchase at the same dealership, that's how you kick your competitors to the curb!
---
Increase your profitability
The true measure of the performance and the success of your digital retailing solution is the financial outcomes it produces. AutoFi is focused on providing a solution that produces strong financial results for our dealer partners. By enabling the dealer to customize markups, lender selection and F&I products dealers can create a digital experience that wins customers and protects profit. To that end the deals in which the customer engaged with AutoFi generate on average an additional $200 back-end PVR.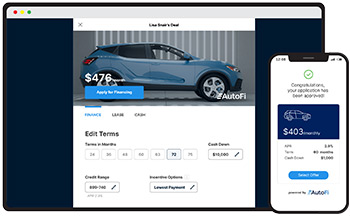 ---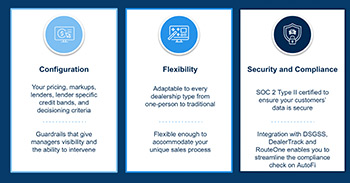 Maintain control of your people and process
A powerful solution is only as good as the people and processes in place at the dealership. Autofi provides guardrails that give managers visibility and the ability to intervene when a deal goes off track. With AutoFi it is your pricing, markups, lenders, lender specific credit bands, and decisioning criteria. AutoFi is adaptable to every dealership type from one-person to traditional and is flexible to accommodate your unique sales process.
For your peace of mind AutoFi is SOC 2 Type II certified to ensure your customers' data is secure and we offer integrations with DSGSS, DealerTrack or RouteOne that enables you to streamline the compliance check on AutoFi.