Modern automotive marketing for tomorrow's top retailers
Empower your dealership with expert-backed, intelligent marketing solutions
Smarter marketing, faster results: Experience the future of automotive marketing powered by artificial intelligence. MarketAI, our all-in-one retailer marketing platform, utilizes real-time data to optimize your campaigns, keeping you ahead of the curve.
Automated, inventory-based ad creative: MarketAI pulls live vehicle information into a dynamic ad and delivers that ad to a shopper with buying intent, eliminating wasted advertising and production costs.
24/7 access to actionable data: Gain a competitive edge with data-driven campaigns and real-time insights that show you that your inventory is consistently in front of potential buyers, driving growth and maximizing your dealership's success.
AI-powered marketing with human support: Our team of experts is always there for you, ensuring that you receive the support you need to achieve success while freeing up your time to focus on running your business.
Price and Packages
Enroll Now
Compare Packages
Set Up a Demo
---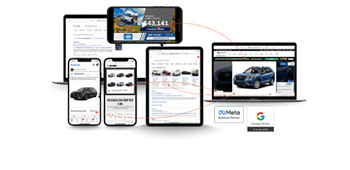 Cross-Channel Advertising Execution
Easy, comprehensive advertising solutions
Meet shoppers wherever they are with campaign activation that optimizes across all your connected channels. ZeroSum is an experienced Premier Google Partner and Meta Business Partner, and fully executes OTT & Online Video, Cross-Network Display, Facebook, Instagram, Amazon and Google's suite of Shopping, Display and Search.
---
Real-Time Market Intelligence
24/7 access to market conditions, inventory levels, inventory mix and pricing changes
MarketAI is powered by the industry's most comprehensive automotive dataset, representing all inventory activity in the country, providing you with 24/7 access to market conditions, inventory levels, mix and price changes as they happen to help you optimize what you stock, how you market and how to price.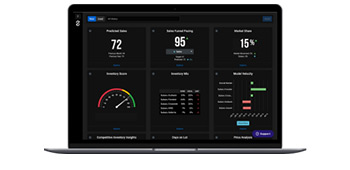 ---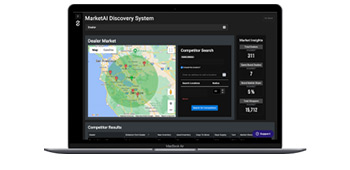 AI-Powered, Human Supported
Your next dream team
Our team of experts guide and oversee the entire process, allowing you to reclaim your time and focus on what's important, running your dealership.
---
Inventory-Driven Creative
Easy, comprehensive advertising solutions
Creative is powered by your most compelling asset, your inventory, with ad units automatically created and customized with its unique images, pricing, and content. Each VIN's inclusion & exclusion is dynamically controlled as it arrives and leaves your dealership, maximizing each unit's presence in front of in-market shoppers the minute it arrives while preventing wasted spend.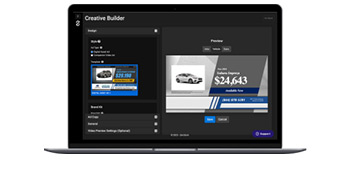 ---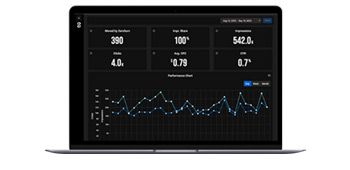 High-Efficiency Ad Automation
Hands-free technology that works
promote on any given day, and on which channel (Social, Display, Video, Search, or VLA), taking into consideration days on lot, budget, exposure, supply, and demand.
---
VIN-Level Attribution, 24/7
Actionable, attributable insights
MarketAI advertises your individual vehicles, meaning that your ad spend is attributable down to the VIN-level. You can see which vehicles are influenced by your media spending, so you know that your marketing strategy is effective. With marketing insights that go beyond the ambiguity of CPC's, CTR, and Bounce Rate, you'll get right to the metrics that matter–which cars you advertised and which cars sold.
---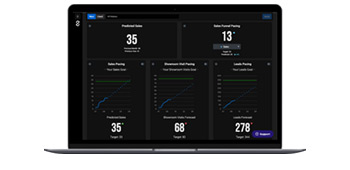 Operational Insights
Get the most out of your ad spend
View simplified, informative insights directly from your CRM to help you understand what's working, what's not, and optimize your internal sales funnel while maximizing your ad spend efficiency.
---
Data-Driven Decision Making
Quick and easy decision making for your dealership
MarketAI is your decision engine, combining analytics and intelligence from market, marketing, operations and inventory data to help you make decisions and act faster than the competition.